Slots - 5 Reel Bonus Slots
Solomons Mines

Coin Values: .01¢ .05¢ .25¢ .50¢ $1 $5 $10
Max Lines: 25 Lines
Special: All symbols pay Left to Right except Scattered Journal which pays any
Penelope only appears on Reels, 2,3 and 4 and substitutes for all other symbols except Scattered Journal
The prize is doubled when Penelope substitutes in a winning combination
Bonus Feature: Triggered when 3 or more Scattered Journal Appear
The Solomon's Mine Feature continues until no Gems are found
All prizes are multiplied by the triggering bet
Feature wins are added to payline and scatter wins.

Bonus Game: Yes U.S. Players: Yes





Independence Day

Coin Values: .01¢ .05¢ .25¢ .50¢ $1 $5 $10
Max Lines: 9 lines
Special: All Payouts are based on the paytable
Only highest paid win per selected pay-line
All symbols pay Left to Right (1-5) in Consecutive order, except Scatter, which pays on any position
Free Spin: 10 Free Spins are awarded when 3 or more scatter Betsy Ross symbols appear
Additional Free spins can be won during Free spins
All winnings during Free Spins are Doubled, except Bonus Winnings
Free Spins won during Free spins are not doubled
Bonus: Bonus Round is a awarded when 3 of Declaration of Independence symbols appear on any active pay-line

Bonus Game: Yes U.S. Players: Yes





American Icon

Coin Values: .01¢ .05¢ .25¢ .50¢ $1 $5 $10
Max Lines: 20 lines
Special: All symbols pay Left to Right (1-5) in Consecutive order, except Scatter, which pays on any position.
Free Spins:15 free spins are awarded when 3 or more Contact symbols appear anywhere on the reels.
Additional Free spins can be won during Free spins.
All winnings during Free Spins are Doubled, except Bonus Winnings.
Free Spins won during free spins are not doubled.
Bonus: Bonus round is awarded when 3 Logo/Star symbols appear on any active pay-line.

Bonus Game: Yes U.S. Players: Yes





Black Magic

Coin Values: .01¢ .05¢ .25¢ .50¢ $1 $5 $10
Max Lines: 25 lines
Special: All Symbols pay Left ot Right except Scattered Moon which pays any
Witch substitutes for all other symbols except Scattered Moon
Bonus: The Black Magic Feature is triggered when 3 or more Scattered Moons appear
Select from the 6 Crystal symbols
Prizes are awarded for each selection made
All prizes are multiplied by the triggering bet
The Black Magic Feature wins are added to payline and scatter wins

Bonus Game: Yes U.S. Players: Yes





Cupids Arrow

Coin Values: .01¢ .05¢ .25¢ .50¢ $1 $5 $10
Max Lines: 20 lines
Special: All symbols pay Left to Right (1-5) in Consecutive order, except Scatter, which pays on any symbol
Free Spins: 15 free spins are awarded when 3 or more scatter symbols appear.
Additional Free spins can be won during Free spins
All winnings, including BONUS wins, during Free Spins are Tripled
Free Spins won during Free spins are not tripled
Free Spins: Bonus Round is awarded when Bonus symbol appears on both Reels 2 & 4 on any active pay-line.
If Multiple pay-lines cross through both Bonus symbols, bonus round Prize will be multiplied by the number of pay-lines crossing through.

Bonus Game: Yes U.S. Players: Yes




5 Reel Bonus Slots
Like their 3 reel cousins the 5 reel bonus slot machines give the player the opportunity to win more money in a fun and exciting bonus round that is triggered when certain symbols line up on a payline or appear in the reel window. How the bonus round is triggered varies from slot machine to slot machine and the rules for each slot machines should be consulted to find out how the bonus round is triggered.

Each bonus round has the player performing a number of tasks and when completed properly the player wins extra money. The money is added to the players bankroll when the bonus round ends.
New Slots Games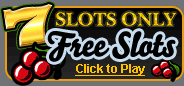 Slot Tip:
Casinos don't hide or move their best slot machines around because the are affraid of someone finding them. The casino want these machines to be played because the more they are played the more other machines are played and the more money a casino can make.
»
CrazySlots.com
»
OnlineVegas.com
»
GoldenPalace.com